2017: A Year in Luxury

There is no doubt: 2017 was a much better year for the luxury industry, far better than 2016 ever was. Revival of the fortunes of a few brands and several exciting happenings from the world of luxury.
…
The Millennials
They are the new face of luxury, the new consumers as it were. Or, so says a recent report by consulting firm Bain & Co. The global luxury industry, says the report, grew by about 7 per cent in 2017 and is today estimated to be 1.2 trillion euros in value. And the difference has seemingly been made by the new aspiring consumers, people born after 1980, who contributed about 85 per cent to the growth of the luxury industry, claims the Bain report. Claudia D'Arpizio, a partner at Bain, said, "The power shift between generations, away from the baby boomers towards younger shoppers, means the latter are now the growth engine of the market in every region globally. In order to recover following the downturn, brands had to strategically reposition themselves towards this new demographic and their state of mind and distinct product and shopping tastes. But what has proven particularly interesting is how those habits and preferences are now shaping those of other generations, too."
Digital platforms become the new influencers
The same report claimed that marketing has shown a sharp shift: from newspapers and traditional media, like television, to online mediums. Brands have made major efforts to develop engaging content for digital platforms like Instagram and Snapchat, through their official accounts, but also through their creative director accounts. Pairing up with social media influencers and pop stars have paid off quite well.
Luxury's big daddies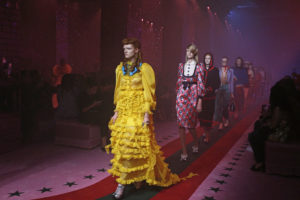 SS17 GUCCI MILAN FASHION WEEK 21/09/2016
Interestingly, at a time when the luxury industry has been worrying about its future, shares in Kering, one of the biggest luxury conglomerate in the world, reached record highs. The French luxury group, which owns brands like Gucci, YSL, Boucheron, Bottega Veneta, Stella McCartney, Alexander McQueen, among others, saw its revenues zoom to €3.9 billion in the three months to the end of September, up 23 percent, driven by the performance of star brands like Gucci, where revenue soared 42 percent to €1.5 billion in the quarter. In early 2015, Gucci suffered poor sales to an extent that they had to replace the former creative director, Frida Giannini, the sister of the man who founded Gucci, when her creative leadership failed to produce any sales growth for the Kering Group. The brand decided to promote Giannini's longtime associate and accessories designer Alessandro Michele as the Creative Director. Michele has been working in the background at Gucci since the Tom Ford era, having joined the company in 2002. He has experienced its glory years when loud decadence promulgated by Ford not only generated billions of dollars for Kering Group, the brand became a cultural touchstone. In September 2015, Alessandro Michele's first fall-winter collection was shown at a disused railway depot.
The show venue had been moved from the swanky lavish theatre setting in central Milan, which was favored by both Giannini and Ford, to the raw and edgy disused railway depot. After the show and away from the catwalks, on Milan's swanky via Montenapoleone, where the real shopping happened, Gucci was mobbed. The show was lauded a huge success and Gucci saw its sales finally growing for the first time in almost two years in the second quarter. Michele's revival of Gucci has been nothing but fascinating. Helming the creative role, his stewardship has been a wonderful flurry of romance and eccentricity. He used strong and vivid colors with a fresh and quirky style. By end November, LVMH Moët Hennessy Louis Vuitton, the world's largest luxury group by revenue, also reported an upward trend, with a 12 percent increase in the first nine months of the year that beat analyst expectations.
Dining

L'Atelier Chelsea
Fine dining saw interesting moments through the year. Chef Joël Robuchon re-entered the eclectic New York City dining scene when he brought his famous L'Atelier to Chelsea. Though L'Atelier already has ten locations around the world, the new NYC outpost is still quite a deal. The French chef, who has earned more Michelin stars over his career than any other chef in the world, hasn't had a restaurant here for years. Since L'Atelier first opened in Paris in 2003, Robuchon has expanded it to cities around the world. It has become a fine dining destination, with several locations earning more than one Michelin star. Only one other version exists in the U.S., in Las Vegas, ever since a previous New York version in Midtown closed five years ago.

Chef Gaggan Anand
Chef Gaggan Anand's eponymously named restaurant 'Gaggan' continues to reign in Asia's 50 Best Restaurant awards list. Gaggan is a progressive Indian restaurant in Bangkok serving Indian cuisine reinvigorated by molecular techniques. Many of the dishes it serves are modern takes on Indian classics but with certain creative and ingenious twists. In the meantime, Chef Anand is making plans to down the shutters of his beautiful Bangkok restaurant, and wants to open Gaggan in Fukuoka, Japan, by 2020. His space in Bangkok will be turned into a culinary school. "It will not be a commercial school, but for those 20 people who really want to cook. It will be underpriced and I will sponsor 20 per cent of them [students]," he says.

Ore by Alain Ducasse
Most other chefs with global footprints also opened interesting new restaurants across the world. Sergio Herman, for example, has a beach club and a Frites Atelier in the Netherlands. Ore by Alain Ducasse at the Palace of Versailles opened in 2017 and serves the best soufflés. And Jose Avillez opened Bairro do Avillez, a restaurant that imitates a whole Portuguese neighborhood in the interior. In the Taberna you eat small dishes for an affordable price. I still dream of the pastel de nata I ate there, but also the savory dishes are delicious.
While Noma is going to re-open as an urban farm in 2018, for those who love Danish cuisine, there is 108 in Copenhagen – they have a coffee bar and Danish pastries shop next door.
2017 also saw the world's biggest gin bar opened in Singapore. The Atlas Bar has the world's largest collection of gin. Its owner, Vicky Hwang, thinks that after a five- month renovation and two years of planning, the 7,400 square foot Art Deco space will be able to rival Raffles thanks to an extensive menu of 1,011 bottles and counting. Jason Williams, Atlas's master of gin, describes the collection as "one of the world's largest, most diverse and thoughtfully curated physical collections of quality gins." They include Pollination Gin, which is made at the Dyfi Distillery in mid-Wales using botanicals foraged from the Unesco-recognized Dygi Biosphere Reserve. Another, called Gin La República – Andina, is a Bolivian gin distilled at 4,000 meters above sea level that uses Andean ingredients such as ulupica, huacataya, quirquiña and k'hoa.
Travel

Dar Ahlam in Morocco
The world of experiential travel got all the more niche in 2017. Four Seasons Hotels and Resorts unveiled World of Adventures, a Four Seasons Private Jet experience that takes guests to different Four Seasons resorts across continents and countries, from the Seychelles to the Galápagos. On these carefully curated journeys, guests can experience the beauty of Rwanda to the adventures of the Galápagos with every aspect of their journey looked after.

Four Seasons Private Jet
As environmental disasters hit the world at crazy speeds (hurricanes in the US, floods in Asia, parts of the Caribbean written off the tourist map until at least late 2018, including St. Barth, wildfires sweeping the West Coast in two bursts, one across California's wine country and another in the greater Los Angeles area), travelers are looking for new destinations to go to. Trending alternatives include New Zealand, Bermuda, and Mexico's Los Cabos.

The View Lugano in Switzerland
Customization is the key to luxury travel, so much so that guests can now even customize their room ambience. From choosing the desired ambience to selecting favorite color of toilet paper and brand of toiletries has led to a richer, more tailored experience at resorts like Dar Ahlam in Morocco, Hotel Magna Pars Suites Milano in Italy and The View Lugano in Switzerland. In several cities across the world, hotels and tours are offering bespoke literary experiences to ttravelers. Harking back to the day when more people read actual books for entertainment,
more bibliophile-friendly holidays feature evenings spent with visiting artists and experiences that pay tribute to certain writers and classic novels. Among the hotels that offer literary holidays are The Betsy South Beach in Miami and Kristiania Lech Hotels in Austria.
Spirits and Wines

The world of wines and spirits is ever evolving, ever changing. In India, Grover Zampa Vineyardscelebrated its milestone 25 years with Auriga, a limited-edition wine, gently aged with an extravagant dusting of gold. The wine has a fresh nose, revealing citrus and floral aromas. Since its inception, the company has made many leaps, including being served at the L'Aperge in Paris, a three-Michelin star restaurant in Paris. Most recently, they launched Insignia, a single vineyard and estate bottled wine, one of India's most premium, which is sold only by invitation.
Named after the traditional 21-gun salute, Royal Salute whiskey was launched by Chivas Brothers in 1953, to commemorate Queen Elizabeth II's coronation, and is today owned by French beverage company, Pernod Ricard. As part of the brand's annual series that celebrates Britain's royalty, and the heritage of the monarchy's splendid banquets, Royal Salute unveiled a new range of limited-edition gift packs. These exclusive packaging is crafted in collaboration with award-winning British wallpaper designer, Angela Groundwater. Groundwater's stunning
design pays homage to Regent's Banquet, one of the earliest recorded lavish feasts held at Brighton Pavilion — more than 200 years ago. The Regent's Banquet gift pack comprises a bottle of Royal Salute's signature whiskey — the Royal Salute 21 Year Old — along with an exquisite crystal glass. Meanwhile, in 2017, Macallan 57 Lalique had the distinction of becoming the most expensive scotch in the world. The second oldest Macallan whiskey ever released by the iconic Scottish luxury whiskey maker, it is a part of Macallan's coveted Six Pillars Series of ultra-premium whiskeys. This one is a special 57-year- old single malt whiskey. This extremely rare and limited edition single malt whiskey comes in a special "Finest Cut" crystal decanter, designed exclusively for the elite label by legendary French crystal house Lalique. The Finest Cut decanters have been individually numbered and are produced in a very limited quantity. Only 400 of these bespoke decanters exist in the world and are available in selected outlets in USA, UK, Europe and Asia. In India, it costs about Rs 11 lakh for a bottle.
And among the most expensive cognac being sold in the world right now, Rémy Martin's Louis XIII touches the very pinnacle. This ultra-premium brand retails for a minimum of $23,000 and the vintage editions can set collectors back by a fortune. Produced and distilled in Cognac, France, this deliciously complex spirit comes in an elegant Baccarat crystal decanter. Each decanter takes four generations of cellar masters and 100 years to craft. Cognac is traditionally made by distilling wine to create a clear 70 per cent variant of colorless brandy, and Louis XIII is made from 1200 such different variants, which are aged in French oak barrels for a minimum of 40 years, with some up to 100.
Luxury Cars
Every year sees a slew of luxury cars that hit the market, to replace the earlier year's marque cars. 2017 was no different. The $157,000 Mercedes-Benz AMG GT R sits at the top of the line with a 4.0-litre V8 bi-turbo engine with 577 horsepower, which can hit 60 miles per hour in 3.5 seconds, racing to 100mph.
The Porsche 911 GTS has classic good looks and comes with a boxer-six engine tuned for 450 horsepower and 405 pound-feet of torque. Its top speed is just shy of 200 mph. And then there was the $422,000 Lamborghini Aventador S, which is a four-wheel- steering drive. The car goes from zero to 62 mph in 2.9 seconds and you will hit 124 mph faster than you can count to 10.
Real Estate
One of the best markets for luxury real estate turned out to be Manhattan, where price cuts revved up the sales. The number of contracts signed for homes over $4 million totaled 1,172 in 2017, a 6% increase over 2016, according to the report by Olshan Realty, which puts out a weekly roundup of pending luxury sales in Manhattan. Price cuts and discounts drove the sales as sellers who overpriced their homes, finally decided to do something about it.
London, too, has begun selling its luxury properties on huge discounts. Extell sold off a few flats in luxury development One57 at discounts like $12.7m off the asking price. Manhattan, seemingly has more than 12,300 unsold condominiums either built, under construction or planned, against sales of about 1,400 a year. The numbers in London, according to data provider Molior London, stands at 13,500 unsold luxury homes. Luxury developers are offering lavish inducements to would-be buyers, from price discounts and tax incentives to gift
cards, sports tickets and furniture packs, including free cars.
Luxury Watches
Again, 2017 proved to be a good year for the Swiss watch industry. Share prices of Richemont and Swatch Group rose sharply. Richemont's sale grew by 6 percent year-over- year to $3.3 billion, led by a 9 percent increase in jewelry sales and with the decline in watch sales slowed to 2 percent.
Among the best releases in 2017 was a Baume & Mercier Clifton GMT Power Reserve. The 43mm steel case with polished and satin finishes houses a deep blue dial with sun-satin finishes that displays the date (3 o'clock), power reserve (6 o'clock), and GMT functions (12 o'clock), making it possible to display two different time zones.
In Greubel Forsey Art Piece Edition 2, the Double Tourbillon appears to be a moving sculpture. A push-piece  controls a "bistable" mechanism that displays the hours and minutes. Jaeger-LeCoultre Rendez-Vous collection, 2017, has introduced a moon phase, a chiming reminder function, and new colors, including yellow and rose gold, as well as steel or alligator leather. The vintage style Montblanc 1858 Collection combines traditional Swiss artisanal watchmaking with a genuine material from watchmaking history, embodying the military spirit of the 1930s.
Bronze has been coupled with steel for two new models. The subtle changing color of the case further enriches the vintage appeal of each timepiece. Among the vintage fittings used in the watch are an original Montblanc logo from the 1930s era with its historical font and emblem of the Mont Blanc Mountain in the center, besides new cognac-colored calfskin and alligator straps which have been given an aged look by the artisans at the Montblanc Pelletteria in Florence.