Ambiente Sedona – North America's First Landscape Hotel

 North America's first landscape hotel, Ambiente: A Landscape Hotel is currently scheduled to open its doors to the public early 2021.
Similar to the other handful of landscape hotels that exist around the world, Ambiente is designed to blend in with the surrounding environment and built with a deep respect for the land around it using sustainable and innovative practices.
This unique luxury hotel has 40 cube-shaped guest atriums elevated above the ground on steel frames as if they're floating in mid-air. Each atrium consists of a bedroom, sitting area, and bathroom with an over-sized soaking tub and heated floor. Minimalist decor encourages guests to reconnect with nature, and motorized drapes offer nighttime privacy.
 
No cars are allowed on the three-acre property; instead, guests can ride around the hotel's network of 'wellness trails' in two-person electric vehicles or take a guided hiking tour through nearby Coconino National Forest.

Rendering of Ambiente Hotel, Courtesy Ambiente
Reflective, bronze-tinted floor-to-ceiling windows offer unobstructed views of Sedona's famous red rock formations and Coconino National Forest from the inside while camouflaging the suites from the outside. "We designed the Atriums with the goal of providing an atmosphere of tranquility and rest that would be enhanced by thoughtful touches at every turn," said Jennifer May, co-owner of Two Sister Bosses. "There truly is no other place in the world where you can stand in the midst of unbridled nature, surrounded by expansive, unparalleled views of rare red rock formations, all while enjoying the utmost in in luxurious accommodations."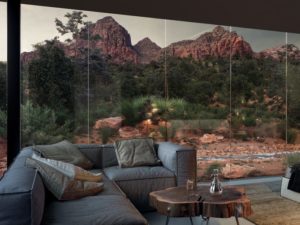 Ambiente is in line with Sedona's new commitment to provide sustainable destinations for tourists that are harmonious with the environment around them. The hotel aims to be the city's leading example of sustainable tourism and innovative hotel design that promotes long-term vibrancy within the community. For more information about Ambiente, visit AmbienteSedona.com.
Images Courtesy : Ambiente Sedona