Bentley Motors Targets Sustainable Luxury Mobility Leadership

Image Courtesy – Bentley
Bentley Motors outlines Beyond100 strategy, targeting sustainable luxury mobility leadership.
With the promise to offer truly sustainable luxury, Bentley will reinvent every aspect of its business to become an end-to-end carbon neutral organisation as it embarks on its second century. The target is driven by a transformation programme across Bentley's entire operations and products. This includes switching its model range to offer exclusively plug-in hybrid or battery electric vehicles by 2026, and full electric vehicles only by 2030.
That plan, known as Beyond 100, is already underway with the British manufacturer confirming that two plug-in hybrid models will come out next year. The company's first all-electric vehicle will come to market in 2025. All suppliers will have passed a sustainability audit, verifying their sustainability credentials at the end of the year, according to Bentley.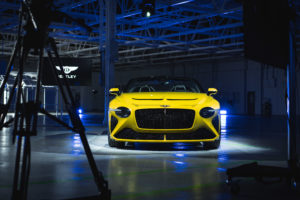 Image Courtesy – Bentley
Last year, Bentley's production facility in Crewe became the first luxury automotive factory in the UK to be certified carbon neutral by the Carbon Trust. This followed two decades of implementing innovative solutions, including a water recycling system in the paint shop, local tree planting, installation of a 10,000 solar panel carport, taking the total number of on-site solar panels to 30,000, and a switch to renewable-only electricity sources.
Beyond100 alsoopens a new phase for Bentley's bespoke division, Mulliner, which now has a three-portfolio structure comprising Mulliner Classic, Mulliner Collections and Mulliner Coachbuilt. The recently revealed Bacalar signifies the start of this new age as the first member of the Mulliner Coachbuilt family and incorporates elements of the sustainable materials showcased in EXP 100 GT.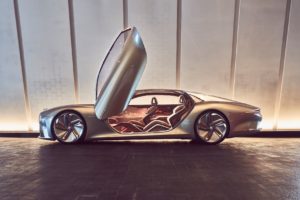 Image Courtesy – Bentley
In addition, redefining digitalisation throughout the organisation extends to many of the brand's valued customers. Bentley is building a network of connected services individual to the customer achieved through product visualisation, co-creation and a digital journey. This will deliver a truly 360 degree, curated customer experience.