Bidding Beyond Art
The multi-billion dollar auction business, bolstered by interest show young tech-savvy collectors who look beyond fine art, at luxury real estate, vintage wine, collectibles and precious jewels and watches, is finding new markets.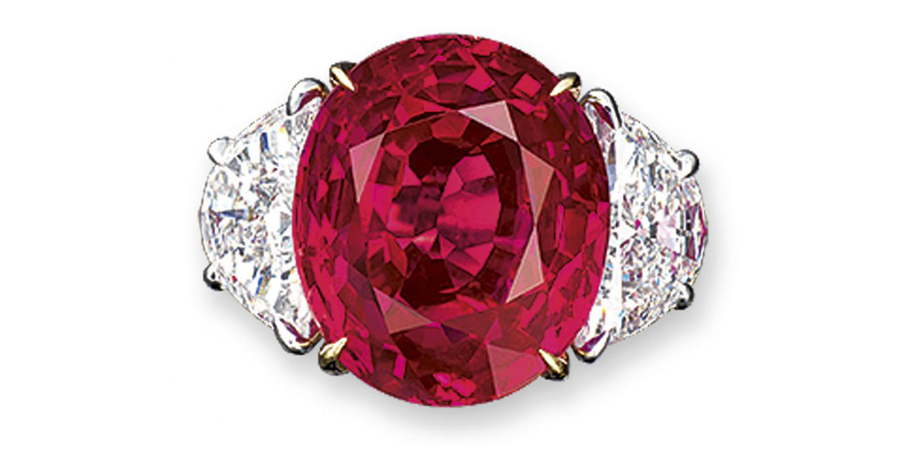 Burmese Ring – Christie's
London-headquartered Barclay Bank's 2012 Treasure Trends report, which tracks spending patterns of the affluent and the rich across the globe, recently revealed a fascinating insight into what people are buying, to treasure, to flaunt and as investment. The treasure chest, as defined by the report, includes precious jewels, rare antiques, high-end watches and even luxury real estate. On average, the wealthy individuals surveyed said that their treasure assets compromise 9.6 per cent of their total net worth.
The wealthy individuals surveyed across countries like China, India, Hong Kong, Singapore, UK and the US say they have begun pushing the rigid boundaries of what constitutes alternate investments – from art – contemporary and classic, to 'treasures' that, though undervalued right now, has a huge potential to growth.
According to Barclay's Treasure Trend report, "Treasure in these markets can often be embedded in the local culture and perceived as something that is portable. It may be considered to be a more secure store of value than paper assets, hence its popularity as a gift at weddings. The wealthy may also see it as a hedge against inflation, which remains high in some of these countries."
Responding to this demand from HNIs are international auction houses that have re-jigged their portfolio to include niche auctions to include a jumble of precious assets – jewels, vintage wines and whiskies, fine watches and antiques, which are auctioned in events that are grand and hedonistic. Jewels, particularly, are auctioned in glamorous events preceded by cocktail evenings.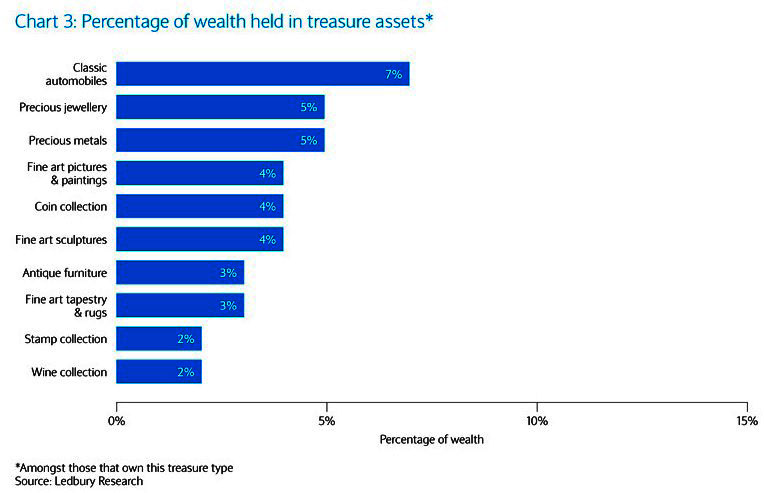 On May 25, Fine & Rare Wines Sale at Christie's Hong Kong, one of the fastest growing market for antiques, fine wines and jewellery, totaled HK$48,899,796 or US$6,332,524. Simon Tam, Head of Wine, China, says, "These results illustrate the wine market's continuing demand for Bordeaux and investible grades of wines from all over the world. Our auction was well-received by providing in-depth knowledge of this dynamic market and appropriate estimates, which resulted in over 96 per cent of the wine selling within and above its estimate range. In addition, wine collectors enjoyed the added appeal of 'Perfect Pairings', pairing recommendations that match a broad range of fine wine to Asian cuisine styles."
On October 9, right at the beginning of the auction season, Sotheby's is hosting a 'Magnificent Jewels and Jadeite Auction' in Hong Kong. A single carved Jadeite seed pearl necklace is estimated to fetch between HKD 200,000 to 250,000.
The Kashmir sapphire was among the highlights of a recent Magnificent Jewels auction by Sotheby's that achieved a total $44,313,500. Great prices for coloured jewels was the theme of the night as the beautifully shaped Magnificent Fancy Intense Orangy Pink Diamond and Diamond Ring brought $6,101,000, exceeding its low estimate, and The El Dorado Emerald, a highly important emerald-cut Colombian emerald weighing 36.53 carats, sold for $2,165,000, just below its presale high estimate.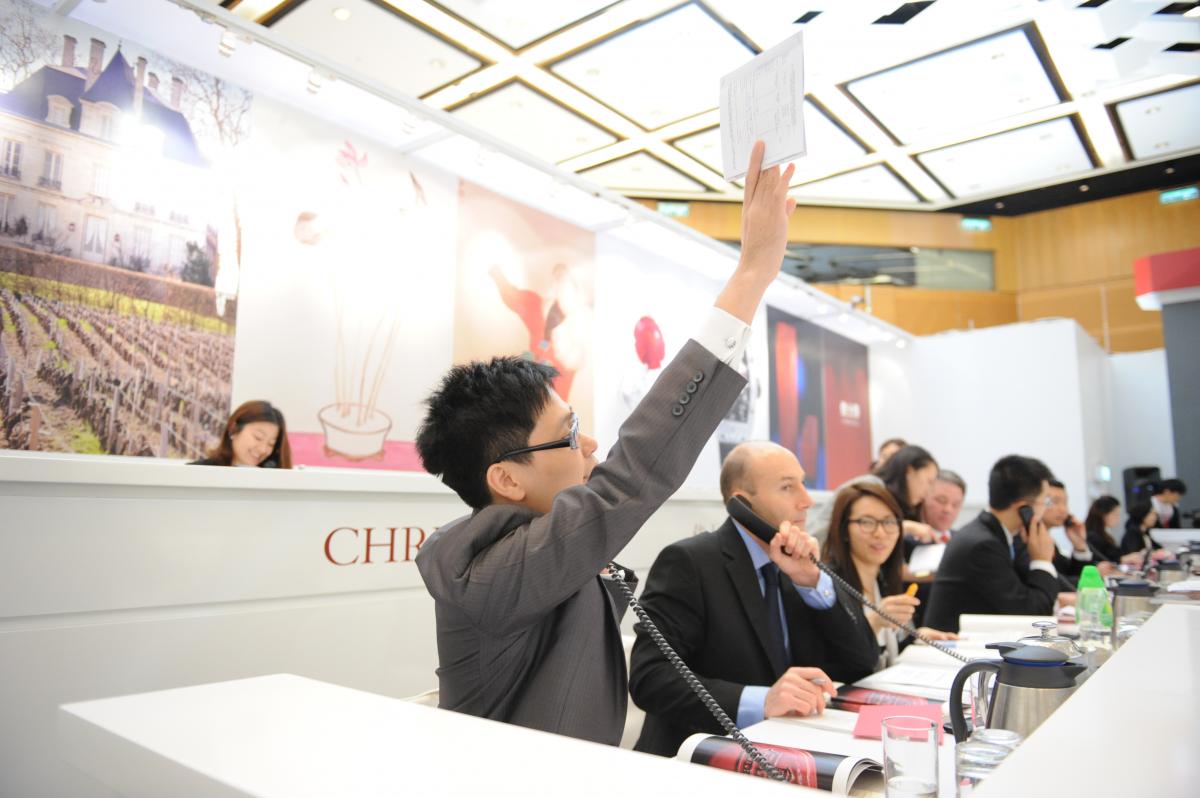 Christie's Hong Kong fine wine auction
A selection of jewels from the estate of American entertainment icon Eydie Gorme fetched a total $2.2 million. "It was a special honor to offer the jewels of Eydie Gorme, whose romantic collection of classic diamond jewelry is a testament to her long marriage to Steve Lawrence," said Schuler.
Auction houses – from Christie's, Bonhams and Sotheby's to the Indian powerhouse, Saffronart, have diversified into realty (the international majors have a separate division for it), jewels, wines and even a vibrant untapped market for couture. Christie's Couture online auction in 2012 was the first in the series that addresses the demand for 20th century high fashion and will feature individual fashion pieces, luxury hand bags, besides the edgy Lanvin wardrobe of Spanish actress Catalina Barcena. The live auction, be held on November 29 in South Kensington, London, included luxury handbag designs by Herme`s and Chanel, such as the former's Birkin and Kelly bags, as well as Chanel's signature quilted bags. In the last two years, Christie's has auctioned Oriental rugs and carpets at King Street, London, and fine and rare wines at the Rockefeller Centre, NYC.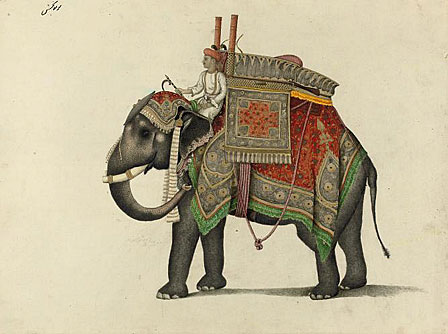 Ismail Merchant collection
Sotheby's Wine, a separate division, puts out the season's price list way in advance on its website. The investment categories that collectors are now interested in include vintage whisky from top performing distilleries such as The Dalmore and Macallan. According to The Whisky Highland Index, established by whisky collector, connoisseur and advisor Andy Simpson, which provides a detailed distillery investment picture, the value of the top 250 performing bottles have appreciated by 183 per cent; the top 100 performing bottles have appreciated by 242 per cent in the last four years'.
Exquisite Indian antiques and collectibles feature also prominently in Bonhams auctions. Like young Chinese looking at investing in their heritage, young Indian collectors, too, are opting to bring back their heritage into the country through the route of auctions. "Increasingly, they are extending their focus towards other collecting categories including jewellery, post-war and contemporary art, arts of the Islamic world, wine, watches, Southeast Asian paintings, Orientalist Art, silver, furniture and decorative arts," says Menaka Kumari Shah, Director and Country Head – India for Christie's.
This, in turn, has encouraged owners to consider putting their objects into future auctions. Andrew Currie of London-based Bonhams says, "Almost all the Indian art in our auctions is, of course, sourced from outside the country because of strict export regulations and many of our buyers are collectors in India repatriating their heritage."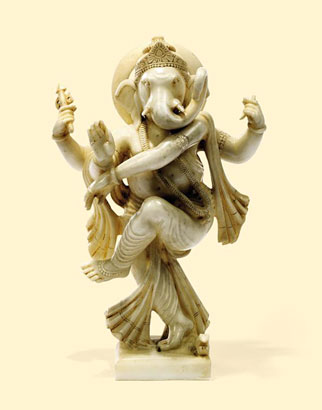 Rajasthani marble statue of Ganesh, 19th century
Over the last two years, Christie's has successfully sold significant collection of art – like the Clive of India Treasure (2004); jewels from the estate of Anita Delgado (1890-1962), fifth wife of Maharaja Jagatjit Singh of Kapurthala (2007); The Ismail Merchant Collection (2009) and the Estate of Francis Newton Souza (2010) and several collections of jewellery, Indian and Persian manuscripts and furniture.
Indian auction house, Saffronart has seen major success in auctions beyond art, particularly jewellery collectibles, and interestingly, men's accessories. In a buzzing collectible auction, Saffronart sold a brass and silver 1940s Mukha Linga from Karnataka for Rs 1,03,15, while a superbly crafted Theyyam Dancer's Headgear sold for Rs 2,74,275. The Gentleman's sale auction had unusual articles like a pair of art deco enamel and gold cufflinks; limited edition writers series fountain pen from Montblanc; a silver sugar sifter by Oomersi Mawji; a Patek Phillipe Gondolo yellow gold wrist watch, with a winning bid of Rs 507,150; a sterling silver flask, with the image of a golf player delicately crafted on it, and even a 1961 Pontiac Laurentian, a car that's a piece of 1960s Americana. Priced at Rs 10,00,000 ($20,000) to Rs 15,00,000 ($30,000), the car was available with original manufacturer parts and with all its bells and whistles intact.
Nish Bhutani, COO of Saffronart says that Indian collectors veer towards niche auctions like jewels, little collectibles and gentlemen's accessories. "We have had very successful auctions involving vintage cars, textiles and carpets. They appeal to collectors who have eclectic tastes and a different kind of aesthetic sense."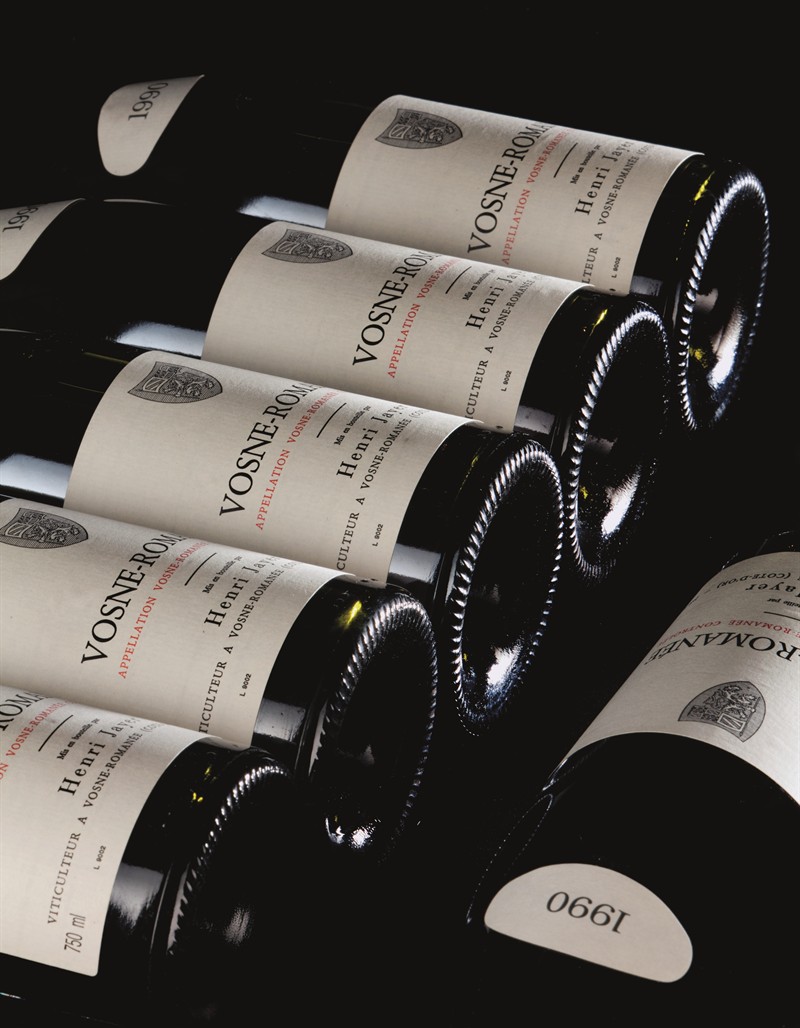 Christie's rare vintages from Henri Jayer's cellar
Despite the presence of Indian collectors, many of them young, in the ever increasing auction space, there is no denying that it is the Chinese, the Russians and the Arabs who are spending seriously on auctions. Kumari-Shah says, "We are welcoming new collectors from all around the world; a large proportion from Europe and America, but also significant numbers from Asia, Russia and the Middle East."
The auction business globally is now powered by the new customer, backed by the huge amount of wealth generated in the last 15 years and supported by in the breakdown of the old east/west boundaries, the re-emergence of Russia and the growth of the eastern European countries, China and to a smaller scale, India, and the increasing democratization of the auction space due to the internet.
In fact, internet has had a far reaching effect on the auction market. In July 2006, Christie's was the first international auction house to give clients worldwide access to bidding in its sale room over the Internet, via Christie's LIVE™. By 2007, the system was available across all Christie's salerooms worldwide. Currie says, "The introduction of internet bidding, i.e. bidding online during an auction, certainly seems to have become popular and an increasing number of lots are being sold that way."
While it is probably too early to evaluate the overall effect of internet bidding, auctioneers are in no doubt that as social media catches on and young collectors display interest in collecting art, antiques, vintage accessories, jewels, watches and wines, the digital world will play a larger role in the coming years.