Italy's Sustainable Luxury Tour Operator, SIT Platinum, Launches "Proposito" Cultural Fund

Florence
Image Courtesy – Travel PR News
SIT Platinum, Italy's first sustainable luxury tour operator, is proud to launch "PROPOSITO" ("purpose" in English) a cultural fund whose goal is to support some of Italy's famous cultural institutions and local artisans adversely affected by COVID-19 via donations to various new initiatives. 
SIT Platinum was born from the desire to offer the best possible service to affluent guests, total dedication to life experiences, discovering innumerable artistic, culinary, cultural and fashion wonders for which Italy is world renowned.  Now through their new cultural fund, Proposito, a member can propose a project aimed at encouraging and supporting arts, crafts and culture throughout Italy. The intentions can be dinners, volunteer activities, theatrical performances, events … In short, a free rein to imagination and creativity. Anyone can participate, both as an associate and as a simple supporter, even for the sole purpose of financing a purpose that is particularly close to his heart.
The first of these projects will therefore be " About Art ", which will take place in Florence on Saturday 10 October . Guests will have the opportunity to visit the workshops of the Opificio di Pietre Dure , divided into easy groups and led by the restorers themselves. The evening will end with a gala dinner hosted in the setting of Palazzo Gondi , a historic building particularly important for Italian history: on the ground floor Leonardo da Vinci lived his youth , when he lived there with his notary father. Participants can be a maximum of 40 at the price of 690 euros per person and the proceeds will go to the Amici dell'opificio association, which supports the work of the factory's restoration laboratory.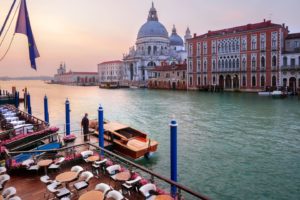 The Gritti Palace Hotel, Venice
Image Courtesy – Marriott.com
The evening of Venice " About Ancient Crafts " will be held on Saturday 17 October at the Furnace and Art gallery of Murano by master Fabio Fornasier, set up with prestigious pieces of art from every era and enriched with those of its production. The room, which has maintained an amazing view of the lagoon, is an exclusive location spread over several levels, where a gala dinner attentive to the culinary tradition of the area will be served. Before the dinner, Maestro Fornasier, a world-famous artist, will perform for the guests, showing how a work of art is created with blown glass. At the end of the dinner, a musical accompaniment will celebrate the delivery of the contribution to the artisans of Venice, the most authentic ones who, most of all, embody the essence and memory of ancient crafts. Here too, a maximum of 40 participants are expected for an individual fee of 690 euros per person, the proceeds of which will go to support the work of the Venetian artisans themselves.
In addition to the launch of PROPOSITO, SIT Platinum is proud to announce their four-night/five-day programs planned for 2021, further tribute to their support of sustainable and participatory tourism in Italy. These will be held in Venice, October 20 – 25, 2021 and in Florence, October 27 – 31, 2021. Thanks to SIT Platinum's extensive network and expertise, guests will be given exclusive access to museums, galleries and institutions which are normally closed to the public.