Launching Today: The PANGAIA Sneaker, A Minimalist, Zero-Waste Grape Leather Sneaker

Pangaia, a brand that prides itself on being a materials science brand on a mission to save the environment, today launches a sustainable, eco-friendly sneaker made of grape leather and recycled rubber for its soles.
According to Pangaia, every year, the global wine industry produces 26 billion liters of wine. Usually, this produces 6.5 billion liters of waste. Pangaia used this "grape waste" to create an environmentally-friendly leather alternative, which is what the material they used to make their new sneaker.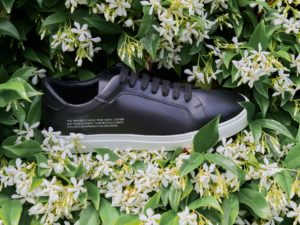 The minimalist sneaker comes in two colors, black and white and has Pangaia's classic text print that describes the materials used to make it. Its made from grape leather repurposed from the Italian wine industry's waste and a recycled rubber sole created from industrial waste such as samples, prototypes, burrs and products that do not meet high-quality standards. The glue used is a bio-based water glue and the laces are natural cotton laces with 100% recycled plastic at the end.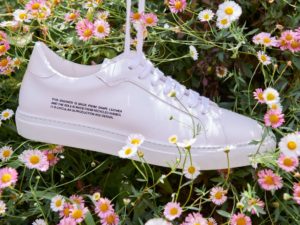 The stitching of the sole and high quality materials also promise this sneaker a long life. It is responsibly produced in Italy, handmade by a local family factory using minimal water and vegetable tanning alternatives.
Launching September 15th at 12pm EST and they're available for preorder on the Pangaia's website
All Images – Courtesy Pangaia