Vencia Masks: Valentine In The Time Of Covid

Veronique Poles creates magic & beauty with her luxurious handcrafted Vencia Mask collection for Valentines Day. 
Veronique Poles, the founder of Vencia, an Indo-French brand, got the idea of her hand-crafted masks during the lockdown as the first ones were designed for her own use in 2020.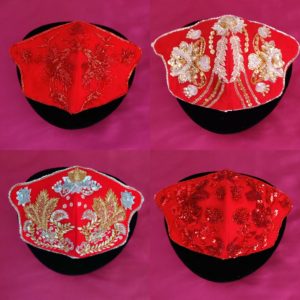 Veronique Poles is a French luxury lifestyle fashion consultant based in India for the last 15 years with an extensive experience in bespoke orders. From bespoke hand-embroidered outfits for her exclusive clients, she has diversified her expertise, designing couture hand-embroidered masks, designed 'avec amour' (with love) celebrating not just friendship and love but also hope, joy and beauty during the pandemic.

Pooja wears VENCIA #29 on a black blackground
These hand embroided masks are like jewels, as an absolute must fashion accessory,  using the know-how of skilled karigars, revisiting some old techniques of embroidery and focusing on the high quality of components used.
"Each mask is a piece of art that touches the soul" said one of her mask fashion addict clients.

Juliette wears VENCIA #1
The word of mouth on her exquisite and beautiful masks designed with her sensibilities did the rest: she designed a complete  collection with dozens of patterns and colours that you can accessorize with each outfit and according to the occassion, from party needs to office needs.
For her Valentine's capsule collection, V
é
ronique and her team have used red, the color of romance and love, to design a vibrant range of masks
 handcrafted in small batches
.
Veronique Poles likes to mention Audrey Hepburn's quote : There is a shade of red for every woman', and  adds,  "There is also a Vencia mask for every woman!".

Inquiries on instagram @vencia_by_poles_luxe