Oman Takes Its Opulence One Step Further
Oman's luxury hotel market to witness a significant boost in 2017 and 2018.

Sheraton- Courtyard
Stimulated by Dubai's success in branding itself as a luxury vacation destination, its Middle-Eastern peers seem to be keen to catch up! With history dating back to antiquity, Muscat encapsulates Arabian opulence. Exotic, adventurous, historic and at the same time, geologically stunning, the largest metropolis of Oman has much to offer, attracting a host of international hotel chains are all set to launch their properties in 2017. Popular luxury chains like W Hotel, Kempinski, Jumeirah have planned their entry in Muscat by end of 2017, while 2016 witnessed launch of Grand Millennium and the re-launch of the newly renovated Sheraton.
Recently, Mövenpick Hotels and Resorts inked an agreement with the Civil Service Employees Pension Fund to operate its first property Mövenpick Hotel and Apartments Al Azaiba Muscat, in Oman's capital city. The property will feature 274 guest rooms and suites and 50 serviced apartments.
Kempinski Hotel Muscat will open in Al Mouj by the fourth quarter of this year. With 310 rooms and 12 restaurants, the five-star Kempinski will be the first hotel in the Al Mouj tourism complex and cater to tourists from both abroad and the Sultanate. Jumeirah Group will operate luxury resort in Muscat in 2017. The resort will consist of two hotel components, one consisting of 206 rooms and the other of 106 rooms, located in the picturesque cove of Bandar Jissah, near Qantab, nestled between the Hajjar Mountains and the Gulf of Oman. The lavish W hotel is scheduled to launch by early 2018 and will comprise of 290 rooms, a specialty restaurant, all-day dining restaurant, an infinity pool and spas as well as a fitness center, retail facilities and tennis court.

Oman Convention and Exhibition Center, Aerial View
Speaking of the recent development, Lubaina Sheerazi, from the Ministry of Tourism, Oman said, "In just three years, the Sultanate received 2.05 million international travelers in 2014, 2.47 million visitors in 2015 – up by 17.7%, and finally reaching the 3.0 million mark in 2016. By 2040, the Sultanate hopes to reach a total of five million international travelers. In keeping with this ambitious target for tourism growth   luxury hoteliers are foreseeing lot of potential in Muscat. With, Oman's flourishing tourism industry, we are positive that the upcoming chains will be a welcome addition to our already extensive portfolio of hotels in Muscat and will offer our tourists a taste of Omani hospitality."
Oman is considered a market brimming with opportunities for the hospitality sector. Hotel room capacity is expected to increase by 6,000 rooms by 2020. Moreover, projects like the new Oman Convention & Exhibition Center (OCEC) and the International airport are all pointed towards a growing hotel market. Upcoming properties at the OCEC include JW Marriot and Crowne Plaza.
Lubaina concludes, "With Muscat undergoing rapid development and significant funds being invested into major tourism infrastructure projects, the time is right for the international hotel chains to enter the city. In addition, we are expecting an increase in MICE movement as Oman is an ideal short-haul destination for MICE. This sector will receive a significant boost with newer properties coming up at the Oman Convention and Exhibition Center in Muscat this year."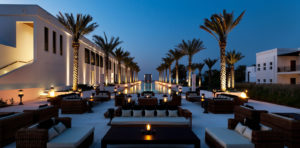 The Chedi Muscat ( Image Courtesy – www.ghmhotels.com)
The quantum leap in Oman's upgradation of its luxury hospitality services to match the quality of its natural beauty, will witness many luxe vacationers add the country to their bucket lists. http://www.omantourism.gov.om