Chopard's New Jewelry Collection is Inspired by Nature
Chopard's new "Red Carpet Collection" for 2020 is inspired by nature and celebrates it "Journey to Sustainable Luxury".

Chopard White Teddy Bears Ring from the 2020 Red Carpet Collection
Image Courtesy – Chopard
Chopard's "Red Carpet Collection" jewelry has a long association with the Cannes Film Festival. Each year the luxury brand releases new creations that are unveiled on the red carpet during the opening night of the event, worn by internationally famous movie stars and models.
The world renowned film festival was canceled due to the pandemic but that hasn't stopped Chopard, the festival's partner of 22 years, from releasing yet another breathtaking collection inspired by nature . With all public activities put on hold, Chopard has released a preview of its new pieces from the collection as it has done previous years.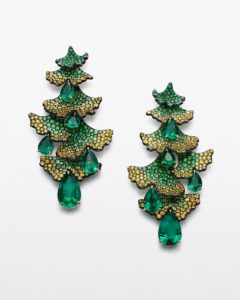 The Co-president and Artistic Director of Chopard, and initiator of its Journey to Sustainable Luxury, Caroline Scheufele has decided to celebrate the environment, along with its flora and fauna, by choosing 'Nature' as the main theme of this 13th collection. In 2013, Chopard embarked on The Journey to Sustainable Luxury, centered around it's commitment to protecting and preserving the planet from which it sources its raw materials. Over the years, the brand has upheld its commitment to protect and preserve the earth by championing sustainable luxury through responsible sourcing.

This year's new collection is nature-inspired featuring animals and colorful depictions of flora. Some of the jewels unveiled from the collection include a bejeweled white owl watch in ethically sourced 18k white gold set with owl's eyes surrounded by the colored sapphires, "Ginkgo" earrings and ring are composed of pear-shaped emeralds, tsavorites and yellow sapphires in shades evoking the foliage.
All high jewels are made of Fairmined certified ethical gold and the diamonds are sourced from suppliers that are certified by the Responsible Jewelry Council.