The Digital Onslaught
Five top brands capture 75% share of online luxury sales as online sale of luxury grows exponentially.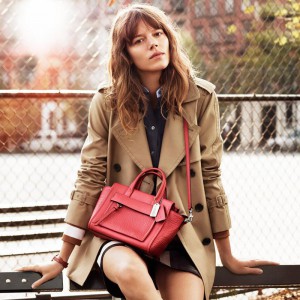 Coach, Spring/Summer 2014
The online luxury segment is where all the action is today if you are to go by the trend report put out by US-based PM Digital. Going by the statistics it offers, traffic to luxury brand sites went up by a sharp 10 per cent in 2013 and the first months of 2014
Interestingly, the five top brands that have used the digital world effectively to market themselves, and earn crucial revenue, include Ralph Lauren, Coach, Michael Kors, Louis Vuitton and Gucci, who account for almost 75 per cent of the online trade market share, besides 68 per cent of the mobile market share.
The report emphasised the fact that luxury consumers look for a "total, tactical experience whether shopping in stores or online". Luxury consumers expect to be wooed, and wowed, by every interaction, and expect perfection, personal attention and a high level of service whether it is in a brand's store on its website or an e-commerce site.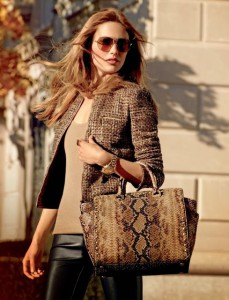 Michael Kors, Exotic Bags for Autumn/ Winter 2014
"An important aspect is its research into search and social marketing practices of luxury brands and how it differs from that of other retail categories," says Suzy Sandberg, President of PM Digital's Global Digital Media division."While some luxury brands may be slower than non-luxury retail brands in adopting ecommerce, the sophistication of their social marketing and fan growth counts far outpaces their wider retail industry counterparts. This is just one example of how the luxury category behaves differently and why it's important to drill deeply into this particular vertical in order to understand the nuances that support their unique goals."
Among the other significant findings: search engines continue to drive traffic to luxury brand sites, accounting for almost 51 per cent of the visits; social media accounts for nearly six per cent of traditional web traffic, and nearly all of it comes from Facebook and YouTube; nearly all big luxury fashion companies now offer e-commerce as an option; handbags and shoes form the biggest categories of products that luxury consumers surf for online; luxury consumers surf for the brands they love, and are loyal to, instead of just surfing for a generic category; luxury consumers are among the most connected demographic group, with twice the smartphone ownership.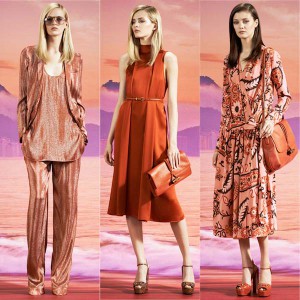 Gucci Resort 2014 Collection
In the future, all digital channels, from email to social network sites, whether paid or free, will have a major effect on luxury brands as they increasingly shift toward mobile and omnichannel offerings, states the report.
Mobile, in fact, will become even more integrated with the live experience of in-store shopping.