Alexander McQueen Partners With Vestiaire Collective

The luxury house is the first to participate in the platform's "Brand Approved" program. The collaboration emphasizes Alexander McQueen's commitment to durable luxury fashion and sustainable practices.
Supported by innovative technology, the collaboration marks the launch of Vestiaire Collective's new 'Brand Approved' program and reinforces Alexander McQueen's growing commitment to the durability of luxury fashion.

A select group of clients will be contacted by a sales representative at Alexander McQueen. Any pieces the clients wish to sell will be assessed and if eligible assigned a buy-back price. Once the pieces are received and authenticated by Alexander McQueen, the client will be issued with a credit note with which they will immediately be able to purchase new items from specified Alexander McQueen stores. Once processed by Vestiaire Collective the pieces will carry an external NFC tag giving prospective new buyers access to information confirming the authenticity of the piece. The pieces will be available to purchase on a dedicated 'Brand Approved' page on the Vestiaire Collective app and site.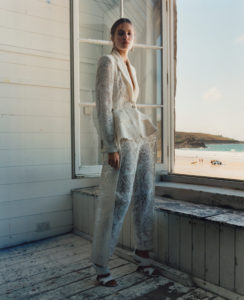 Known for its impeccable craftsmanship and creation of uniquely beautiful garments, Alexander McQueen's collections are designed to stand the test of time. Both McQueen and Vestiaire Collective are committed to facilitating a move towards sustainability in the fashion industry and in consumer behavior more broadly.
This innovative collaboration will give companies such as Alexander McQueen the opportunity to control their pre-owned products, solving one of the main issues of second hand luxury resale: the authentication. Throw "Brand Approved" customer will be provided with a guarantee of authenticity. 

Some of the first designs from the partnership available on Vestiaire are the iconic tartan skirt from the Fall/Winter 2006 collection by the late designer and a sleeveless tuxedo jacket from Sarah Burton's first show as creative director for Spring/Summer 2011. Shoppers can access the collaboration on the Vestiaire Collective app and vestiairecollective.com.