Rolls-Royce Phantom Oribe: Bespoke Luxury Car In Collaboration With Hermès

Image Courtesy: Rolls- Royce
Rolls-Royce and Hermès recently collaborated to produce a bespoke luxury car, dubbed the Phantom Oribe,  commissioned by a Japanese billionaire, Yusaku Maezawa.
Designed and handcrafted by a team of specialist craftsmen from the house of Rolls-Royce in Goodwood, and Hermès in Paris, the Phantom Oribe draws on the lines of aviation. Beyond the client's dreams of grandeur, the result is truly something extraordinary, an object that unites East and West, ancient and modern, a meeting of visions and skills.

The interior of the car is predominantly finished in Hermès Enea Green leather , extending to details including the steering wheel, handles, gear selector and rotary controls for climate control settings.
The two-tone exterior of the car matches the characteristic green and cream glazes of ancient Japanese Oribe ceramics, of which Maezawa is a major collector: the top is finished in Oribe Green, a color created exclusively for the customer that Rolls-Royce has available for use on the client's private jet that the Phantom Oribe will pair with, while the underside is painted cream white. 

The Oribe ceramics also inspire the interiors, conceived and created in collaboration with the Hermès designers and craftsmen: the Hermès Enea Green leather finishes prevail here, used for all the details on which the customer's hands will rest, for the front panel, for the parcel shelf but also for lesser surfaces such as the glove compartment (on the lid of which the signature is imprinted Habillé par Hermès Paris ) and the trunk lining, the center console, the decanter storage compartment and the champagne cooler.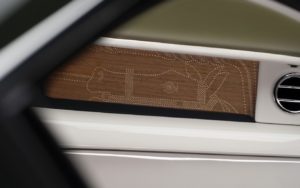 On the wooden front you can see a reproduction of the Hermès horse, carved by hand and based on a design by the French artist and illustrator Pierre Péron.
Most of the design elements were conceived in collaboration with Hermès to meet the wishes of the customer. The Rolls Royce Phantom by Hermès is the car for the private jet experience on the ground.
The future of luxury is extreme value creation and this car has achieved that. Its a unique collaboration with two luxury brands excelling in their individual area of luxury and then together creating a  product that is not just stunning but also one of a kind.